Hi Everyone,

Hope you are all well. Just like you, I have spent another week helping to save the world.




But because of all this heroic sofology and a regular supply of fun-sized Snickers, I'm struggling to flatten the curve


To be honest, this sketch is a complete lie, because I haven't been able to get on that sofa for years.




There was a time, I think it must've been 2019, when I'm sure she moved, can't be totally sure, but I'm sticking with that.

If you're wondering, yes, that character in the first two sketches, and all the other ones I've done on other newsletters, is supposed to be me. If you want to know what I really look like then here's a sketch I did of myself a few months ago




Okay, here's the truth, I'm much better looking than that. This is an actual self-portrait I sent into Portrait Artist of the Year a few years ago, and this gives you more of a feel of what I really look like.




In an attempt to stand out, I made a pair of glasses and a moustache out of paper and stood in front of my easel for 4 hours looking at myself in a mirror. I think this might have been an artistic low point, and a missed opportunity for my family to have me taken away. You won't be surprised to know, I didn't get selected.

Although I did get a wild card place the year before.




That's me behind my buddy Frank, pretending to concentrate. You'll recognise me from the painting above, without the paper glasses and moustache. The guy behind me is wearing them instead.

Frank did talk to me, but our crack wasn't interesting enough to get on the telly. I didn't get through that stage either, but I got to paint Emeli Sande in the National Portrait Gallery. Here's my effort from the show.




Anyway, enough about me rubbing shoulders with the stars.

If anyone still wants any of the prints from last week, I still have a few left, but R2D2 has sold out.




I'm selling them any 5 for £5. Here's the link:

Newsletter A4 Prints Sale

Also, the unbelievable sale is still on.

Tee Shirts for £5 and £10 and hoodies for £20

Here's the link

https://skwiggles.co.uk/returns-page/

As usual, they're all brand new but the ones for £5 are the old Anvil ones which are now discontinued. Unfortunately, I can't accept returns on these unless you think they're damaged or some other good reason. I've hidden them away from those nasty non-subscribers at the bottom of our catalogue

And here's the coupon code for this week
4yccwzdk
Expiration date: Jan 22, 2021
This week's best sellers are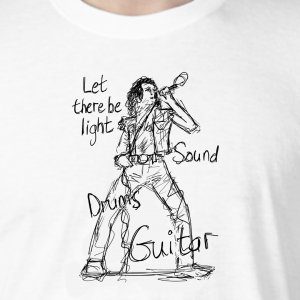 Bon Scott – AC/DC
£18.00 – £28.00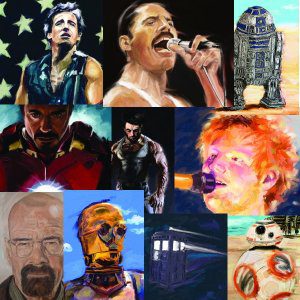 Newsletter A4 Print Offer
£5.00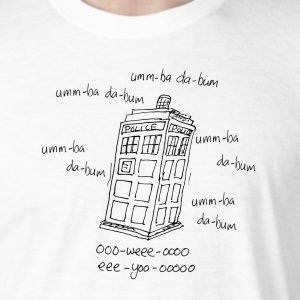 Doctor Who Theme Tune
£10.00 – £28.00
That's it, I think. Thanks again for reading.

I'll just leave you with a childish thing I did this week, and an artistic low point to rival the self-portrait above. My wife fancies Tom Cruise (who doesn't) so after watching Jerry Maguire for the forty-eleventh time in lockdown, I drew this to peeve her off.




I'm 6′ 2″ and that's the only thing I have over Tom.

Have a good weekend.

Take care and all the best,

Ian

P.S. she still fancies the little @£$%@&