5 Aug 22 – What your dog is trying to tell you
Bought this at the supermarket, so I can communicate better with Norman.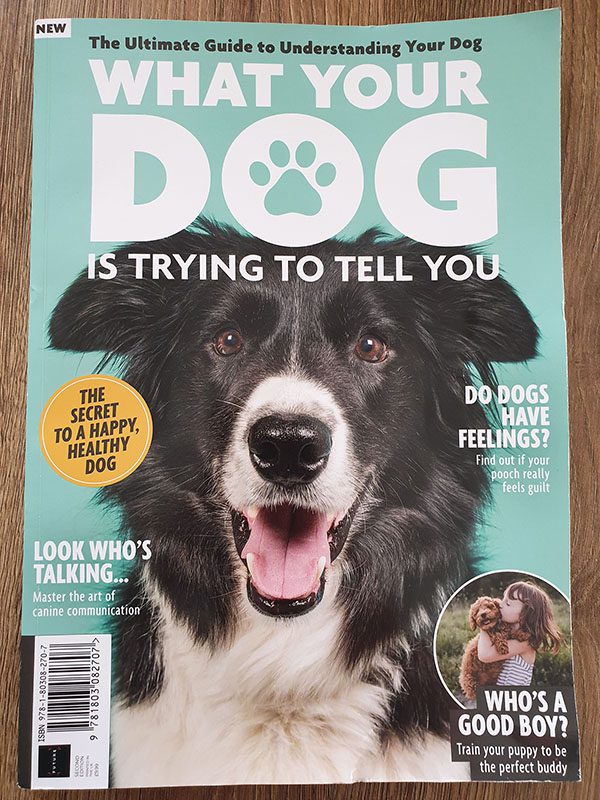 So I've read it and me and Norman are getting on great, communicating effectively late into the night.
Norman: Woof woof – there's a couple of drunks outside.
Norman: Woof woof – someone's slammed a car door.
Me (from upstairs): Woof woof – shut up you idiot.
I've only mastered that one phrase, but I used it often.
Apart from that sentence, here's what else I've learnt from the guide.
Whenever I come home from, wait I don't go anywhere, so let's say the shops, I give him the canine handshake.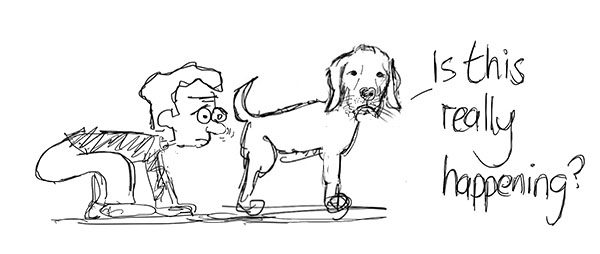 This lets me know if he's in a good mood, when he last ate and whether he's healthy. All useful info and saves a fortune at the vets.
Diane: He looks a bit off today?
Me: Sniff, sniff, cholesterol a little high but he'll be fine.
After the handshake we both yawn.
According to the expert in the magazine, yawning can mean he's sick, or stressed or not stressed or looking forward to something or not looking forward to something.

EXPERT in inconclusiveness
He yawns quite a lot, especially when I talk to him.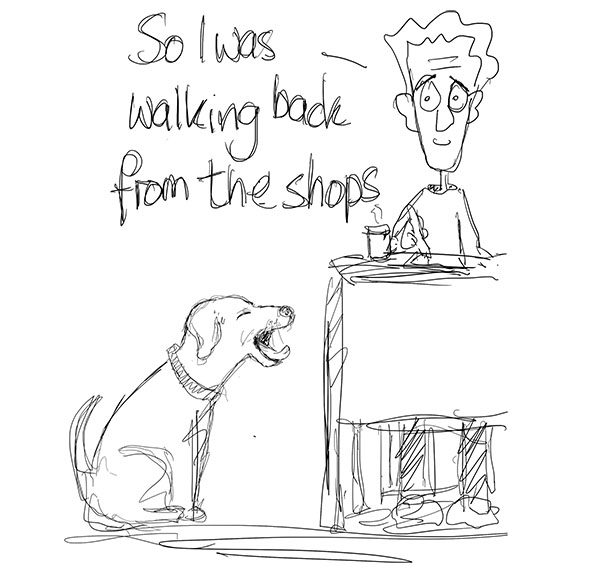 Diane does too, but I haven't got the 'What your wife is trying to tell you' magazine, so not sure what that means.
Then we chew some socks from the bottom of the laundry basket together.
After we've chewed a hole in them and threw them in the air a bit, we roll on them, hide them behind the shed and flatten our ears against our heads.
According to the expert in the magazine, ears pulled back means they are fearful or friendly or sad or not fearful or unfriendly or happy.

EXPERT on inconclusive earography
Next up, we go and eat some long straggly bits of grass in the garden. Apparently, dogs eat grass because there's something lacking in their diet, how do they know that? I have no idea what I'm lacking, but I eat a lot of custard creams just in case it's creaminess.
Next day, after a good session of straggly grass eating, Me and Norman do our version of the Paul Daniel's neverending ribbon from the fist trick.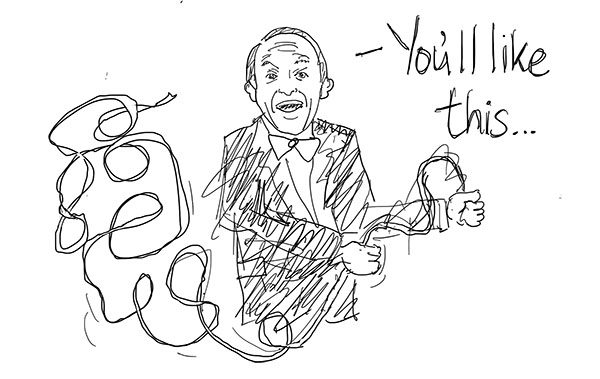 But it's not a ribbon and it's not a fist I'm pulling it out of, and Debbie Mcgee is not involved. You'll be glad to know I haven't done a more graphic sketch of this, because the answer to the question of whether you'll like it, I can definitely say – not a lot.
Childish poo sketch without grass to clarify.

I take Norman for a walk at least twice a day and the magazine says I should allow him to sniff as much as he wants. Smelling is his way of sussing out the world and if you don't let him it could lead to depression. However, waiting for Norman to stop sniffing can also lead to depression, mine.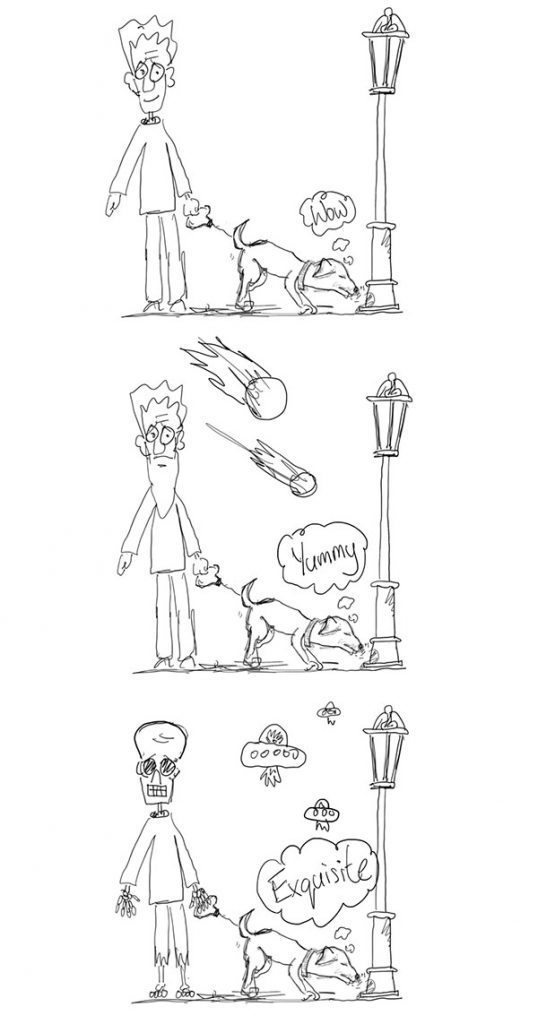 Dogs can detect if our blood sugar levels are low. Now that we can communicate so well, I realise that whenever Norman glances in the general direction of the fridge, he's telling me to have a couple of segments of chocolate orange. Thanks, Norm you're a lifesaver.
He can also detect kidney, bladder, prostate, and skin cancer.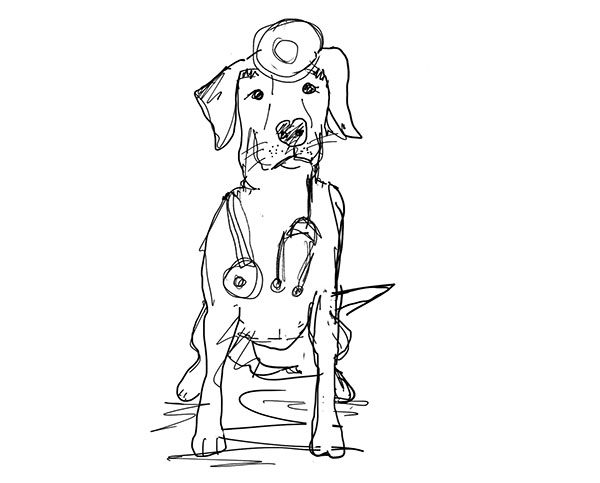 But I can never get an appointment.
According to the expert in the magazine, there's no evidence to suggest dogs can detect ghosts.

because they don't exist
One of the most important things Norman does for me is make me look incredibly attractive. Here's a typical example.
Complete stranger in the street: 'What a handsome fella YOU are.'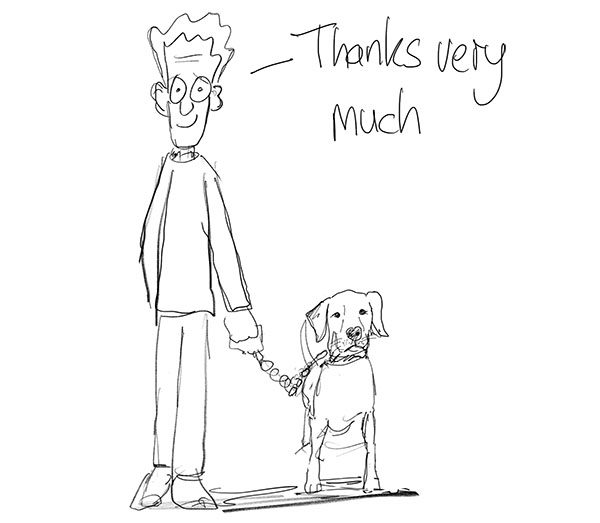 No one ever said that to me before Norman came along.
'What a choochy face, what a choochy woochy face.'
That's when it gets a bit awkward.
So there you are, all the information you need to communicate effectively with your dog. Or, if you want to simplify things, check if their tail's wagging.
Have a great weekend.
Take care and all the best,
Ian
(If you want to leave a comment below, that would be great)
5 Aug 22 – What your dog is trying to tell you