Norman's Walk – Chapter 3
If you've never been attacked by a man with a blank face pulling a trolley full of rotten fruit, then let me tell you this: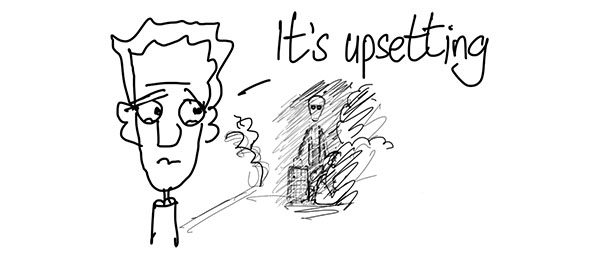 I hurry along the full length of the rugby pitch and check behind to see him still struggling up the steps from the wood. I take a left into the country park and down towards the gate. No matter what emotional state I'm in, I always find time to be confused by this sign as we go through the gate.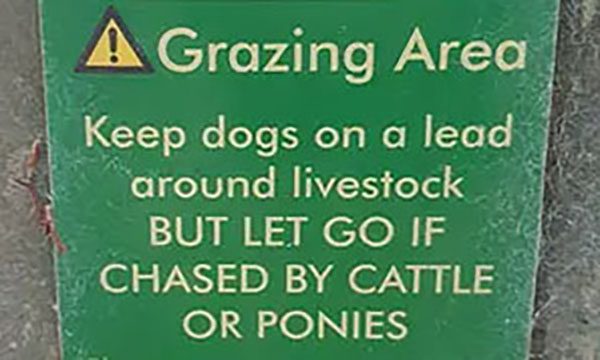 'Look Norman, I haven't got much time to explain today, but we're going in…'
'…if we get attacked by vicious ponies, you're completely and utterly on your own, is that clear?'
He agrees, I put his lead on and we enter. It's important to get the terms and conditions out of the way.
Almost immediately the scenery turns Jurassic.
I must be a bit on edge because the bushes seem spikier, the trees more gnarly and creaky today. Ancient swamps appear from nowhere and small pterodactyls (some may call them pigeons) flutter savagely in the trees.
To add to the stress, Norman keeps stopping and staring at things that aren't there. He does this at night when I'm passing the church, just for a laugh.
But this wasn't a laugh, because then I hear something amongst the Jurassic spikiness, a strange noise that can only come from this, or a herd of this.
If you need to know the sound a Jurassic pony makes, it's 'No-ahahahah, pant pant, heavy grunt, blow out of the nostrils' repeat.
The bushes start to shake.
'No-ahahahah, pant pant, heavy grunt, blow out of the nostrils'
I look at Norman and he yanks on the lead. Norman had done some calculating. He took one look at me and he knew the 'let go of the lead' part of the deal was totally in his favour. If there was trampling underfoot to be done I would be the tramplee, not him. He would, once again, be man's best friend and leave me to face a good mauling at the hooves of a herd of vicious ponies.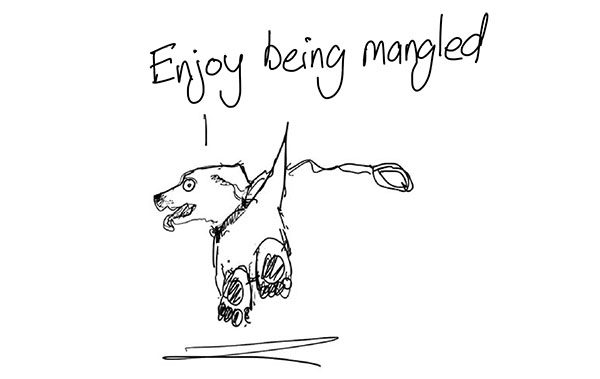 'No-ahahahah, pant pant, heavy grunt, blow out of the nostrils.' Only louder. I'm not giving anything away here, by telling you there's something shocking on the way.
It's coming through the bushes like a Gigantosaurus who was the tallest in school, and is upon me before my running synapses, which hadn't been activated in many years, fire up.
I say my last prayers and the primordial thicket parts…
Behind, and making all of the racket, is a knackered-looking old man.
'Sorry mate, I dropped his lead and he ran off. No-ahahahah, pant pant, heavy grunt, blow out of the nostrils. Come on Brutus.'
And here's the shocking part.
Is what I imagine the headline would be, because this is the very first time in recorded history that anyone has ever been terrified by a sausage dog.
Then I look more closely at the panting man and I realise it's my old PE Teacher Mr. Clyde.
I don't know about you, but when I was at school I remember all PE Teachers looking like this:
He never really wore the mask and he wasn't a fan of O rhesus positive, so I didn't get murdered and eaten, but Mr. Clyde had his own way of doing things.
Here's a list of his favourite keep fit activities.
When the weather was horrendous, he ran us across the main road to a little side street where the drains were always blocked and there was a good flow of cigarettes and dog poo in the gutters. That was where we worked on our basic core strength.
We did feel the burn, but only when the fag stumps were still alight.
On really bad days, when the local river was lethal, he'd jog us down there and make us link arms and step out into the torrent to try and get to the island 100 yards across.
Our lives depended on the enfeebled arms of our classmates and a ravaged tree whose dream was to snap.
Mr. Clyde was certainly ahead of his time with this early team building. What he didn't grasp was the demotivational qualities of a cruel and untimely death.
Gukky got washed away once, which increased our VO2 max aerobic capacity no end.
The kids on the end of the line were the dispensible ones, who didn't play on any of the school teams. Self-preservation was important to me, even at that early age, which is why I went to all extracurricular training sessions.
If the class sizes were really getting too big, he would run us up to a concrete dam further up the river and make us jump over the fish gap. This was a narrow opening in the river, where the water funneled, creating a very powerful stream and a deadly vortex at the bottom.
The gap was about four feet. I may be prone to a little exaggeration, but not this time. One slip and we'd have been sucked into the diabolical vortex and churned around until our atoms were unrecognisable.
If we survived that, he threw us down a muddy, nettle-infested bank and we hoped we were able to stop before we hit the barbed wire fence at the bottom.
Regularly he would pile a few of us into the school van and drive us off to various places in the countryside. In the middle of nowhere, we would disembark and he would point into the undergrowth
'Idiot, there's a metal fence over there, I want that in the back of the van in 20 minutes. Go go go…'
It could've been wood, gates, doors anything. We dropped it off at his house on the way back to school.
If you didn't do as Mr. Clyde said, you got the knuckle head. This was a vicious, skull-crushing swipe of the fist onto the forehead near the hairline.
It hurt but didn't cause any bruising, and there was no evidence of it ever happening just in case there was an inquiry, which there wasn't in those heady days of corporal punishment.
We were Mr. Clyde's crash test dummies in an experiment to see how much the human spirit could endure.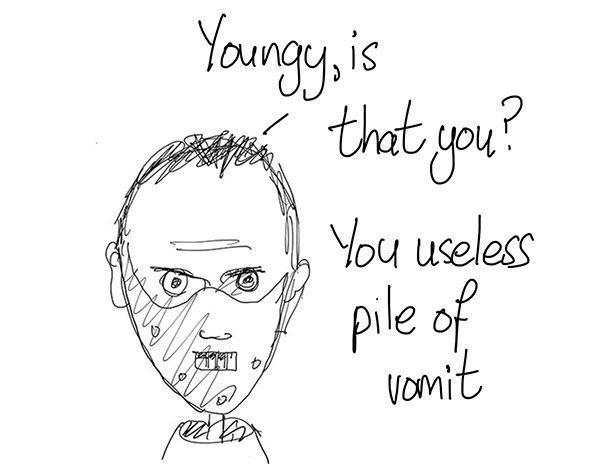 Mr. Clyde is wearing the mask I always imagined him to wear.
'Yes, it's me Mr. Clyde, nice mask you're wearing?'
The mask is a worry to me. Every time I see him in the street, after Silence of the Lambs came out in 1991, I always imagine him dressed as Hannibal Lecter. And here he is, dressed as Hannibal Lecter?
'Yes,' he says, 'I wear it so I'm not tempted to drink the blood of unsuspecting people out here in the wilds of the country park.' He throws his head back and laughs until his mask goes wonky and a tiny bit of red drips out a vent hole in the side.
'Youngy, you pointless individual, do you remember your school football team? Worst team in the whole country.'
He was right. I remember it well. The under 13s Cumbria County Shield, and Mr. Clyde's halftime team talk.
'Listen lads, you're only 4-0 down, so let's try and keep this under 10, cos you're embarrassing me as usual. You two, Cack-Footed and Complete-Shambles (there were a lot of double-barrel names in Cumbria at the time) get off, I'm gonna try these two boys from the year below.'
Tindal and Crossy (real names) jogged into midfield, the fact they were running was a good start.
It turned out Tindal and Crossy could do something we thought only Kevin Keegan could do on Match of the Day.
When the ball came to them, it didn't randomly bounce off their shins into the path of the other team. They controlled it and gave it to a person wearing a similar colour. Mouse, our centre-forward, who'd never really seen the ball before, was suddenly surprised when it appeared at his feet.
And, with the ball and something to do, it turned out Mouse could play alright as well. And then Gukky and Vince stopped picking their noses on the wing, put their fags out and started running about, generally in the right direction.
This might sound hard to believe, but I'm telling you it's true, we won 5-4.
In the next round, we played on our home pitch, which was more cow poo than grass. Sometimes the cows were still there, and on this occasion, it felt like we had 12 players.
The other team didn't know how to deal with Tindal and Crossy and didn't appreciate the physics of cow plop and how quickly the ball stops in it.
We won again, and then we won a couple more times and found ourselves in the semi-finals.
Mr. Clyde sat us down for a team talk: 'Listen boys, you've done okay, but today you're going to get hammered. Their centre-forward has had trials for Man United and he's 6 feet 5 and scored more goals in a game than we conceded last year, which was a lot. He's a goal machine.'
'It was a good run, lads, but it's over. Now, go get 'em.'
In the 3rd minute, Vig, my fellow centre-half, accidentally booted the ball into the Man United goal machine's face, burst his nose and he went off crying. That broke them and we were in the final. The worst team in the country were in the final.
The final was at the Workington Reds ground and 1000s turned up (knock a couple of noughts off if you want.)
Mr. Clyde: 'Listen boys, they've all got hairy legs and moustaches you look like foetuses, it's not going to happen etc etc'.
Buoyed up, we raced out onto the pitch and Mr. Clyde was right. Testosterone was going to be the winner here and we had none of it.
We put up the sandbags and prepared for the onslaught. Our goalposts must've been 6 feet thick because I remember them being hit about twenty times in the first five minutes.
But there is only one thing I really remember about that day.
Crossy, right of the centre spot, to Mouse, Mouse to Tindal, beats two guys on the left side of the penalty area and crosses the ball. Gukky, running fast, faster than I've ever seen him run before, did this.
We won. The crappest team in Cumbria won the Under 13 Cumbria County Shield.
Mr. Clyde: 'Listen boys, you didn't deserve it, they should've pummelled you, but I suppose you did okay.'
We did okay.
Get in.
That flashback had given Mr. Clyde time to take a step towards me as a bit of chianti dribbles out of the mask mouth hole.
I have a strange thought, and forgive me if you're already one step ahead of me here. Do you think it's strange that he should appear right here dressed like Hannibal Lecter just because he reminds me of a serial killing cannibal when I was at school. Doesn't that seem odd to you? Sid the Tree, the Blank-Faced Man, talking seagulls…
Then my synapses tried to work.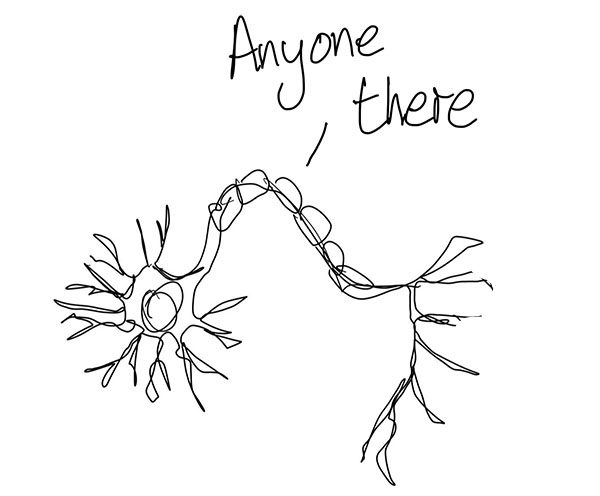 This isn't real, is it? You know that, you've probably known that all along, and I've just somehow come to my senses. Mr. Clyde isn't Hannibal Lecter I've just made that up. I'm just a bit bored doing this same walk every day and I've let my mind wander a little. And if I've just made this up I know exactly what to do to defeat this murdering cannibal in front of me.
It's now all so obvious.
Baddies are always hoisted by their own petard, defeated by what makes them great. What made Mr. Clyde great? You're absolutely right – his knuckle head. That's how he controlled us and if this was a story and I was writing it that's how I would defeat him.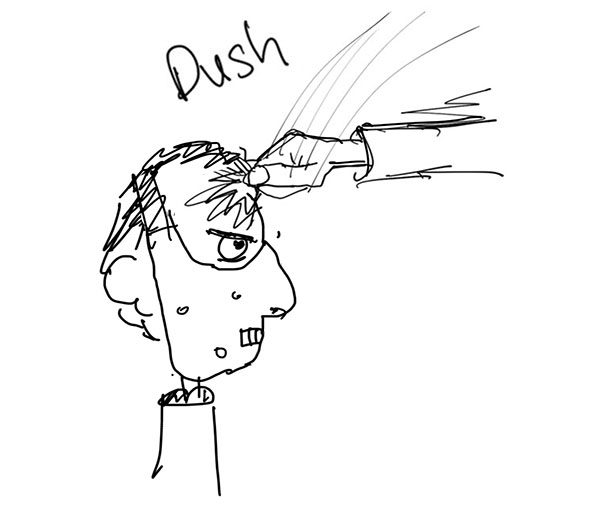 I whack him on the top of his forehead as hard as I can and laugh in his face.
'Have a bit of your own medicine, Clydy, you figment of my imagination.'
I wait for a puff of fairy dust, or some other magical special effect that makes everything right, but all I see is Mr. Clyde's face crumple in what looks like pain. The sort of expression you would use if you'd just been whacked in the forehead very hard. He lifts his hands to his face and knocks his Hannibal mask to the floor.
'What the..? What are you doing?' He groans. 'God that hurt.' Mr. Clyde now looks like the 80-year-old man that he is, not the fearsome school teacher of yesteryear.
He winces again as I see a bruise start on the paper-thin skin of his fragile forehead.
'Youngy? Why…' He shrinks before me.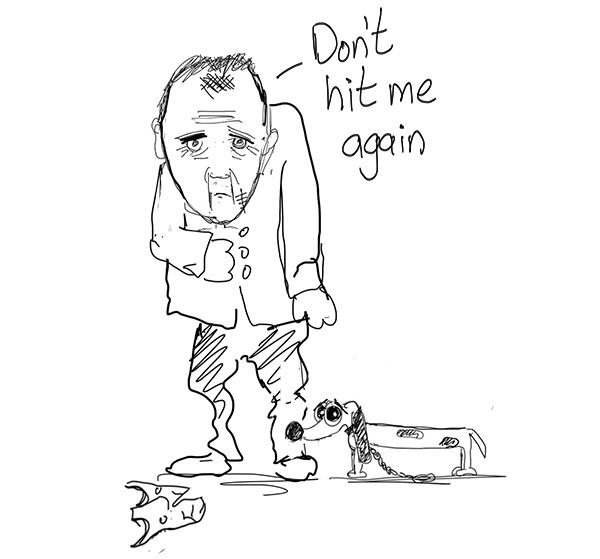 'My mask is broken, I've just had reconstructive surgery on my jaw. Why would you do that?'
His jaw looks really sore, with stitches and extensive bruising down his neck.
He looks at me and says: 'You were always weird, Youngy, but I never thought you were like this.' there's a tear in his eye as he struggles to pick up his broken surgical mask. 'After everything I did for you at school. Come on Brutus, let's go, before he finished me off.' Mr. Clyde, stooped and broken, shuffled off down the path.
I'd just whacked a 80-year-old man on the head.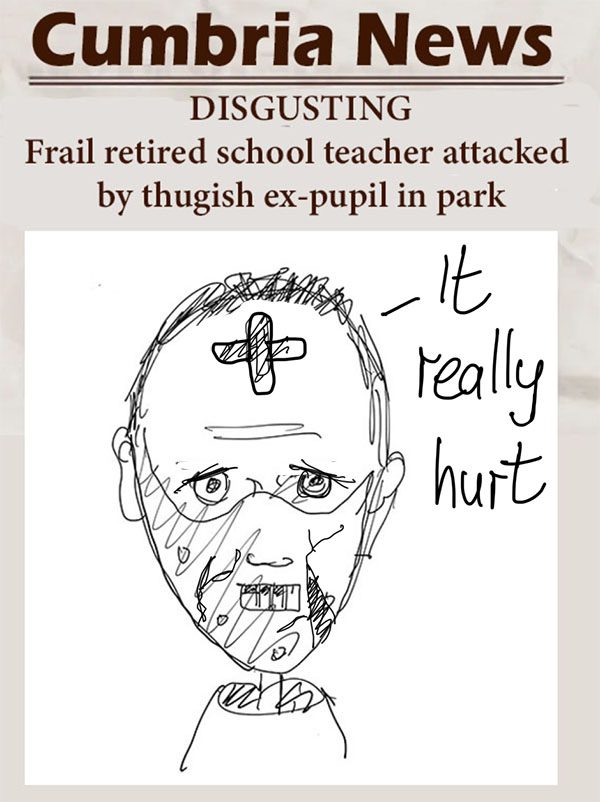 'I'm sorry Mr. Clyde,' I say weakly. 'Are you okay?'
'Stay away from me, ' I hear from the bushes.
My mind is racing and wondering about the Police Interview: 'Why did you assault that old man?'
'All I can imagine is that I was imagining that I was imagining things?'
Was that really my defence?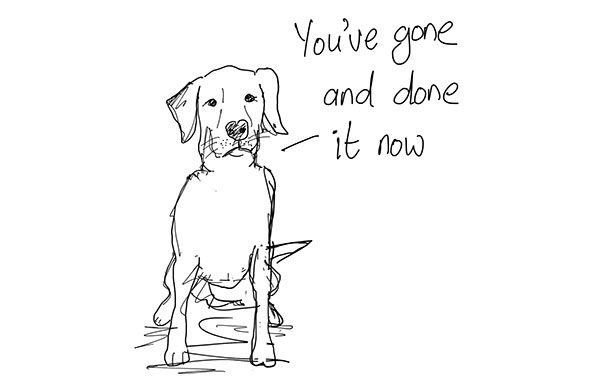 Shut up Norman you can't speak, so stop trying to freak me out. I put him on his lead as punishment for daring to pretend to talk and dragged him along the path just in case I didn't imagine the distant sound of a trolley full of rotten fruit being pulled.
End of Chapter 3
Once again, I would really appreciate any feedback below. Good or bad? Thanks for reading.
Have a great weekend.
Take care and all the best,
Ian
Norman's Walk – Chapter 3