Reminder: I went walking with Norman and I introduced you to a few neighbours, The Medic, Sid the tree and scared a teenager, then The Blank-Faced Man appeared out of the gloom and said something was my fault. The Blank-Faced Man started following me. I met my old PE Teacher and gave him a knuckle head, which wasn't nice.
Norman's Walk – Chapter 4
I have Norman on the lead and I'm still grumpy with him for trying to talk to me when I know he can't talk. I pass Edvard Munch's tree.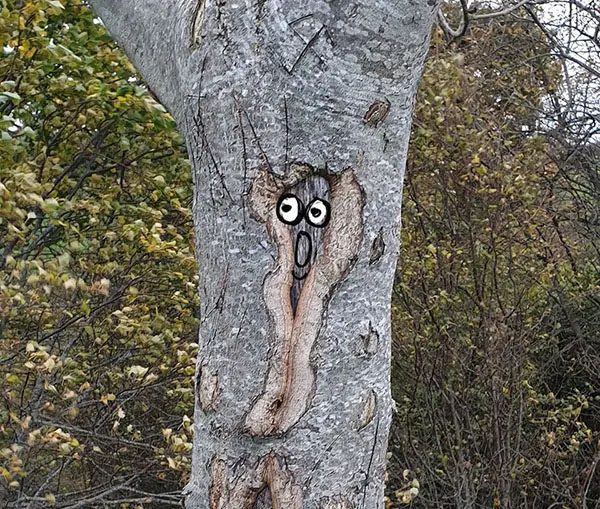 And it seems a little unsettled. I always feel a tiny breeze through the trees when I'm passing, and a noise that some would say is a quiet scream, but not me, because that's nonsense, and I'm a down-to-earth no-nonsense type of guy who doesn't imagine stupid noises in trees. But when I see a figure coming down the path I do hear a scream and it's mine inside my head.
'Still pulling a bit on the lead, I see?' It's blinkin' Graeme. Graeme knows everything about dogs, everything you could possibly imagine. I think he may have a YouTube channel because he helps people out whether they want it or not.
'Well, well well, lead pulling is easily solved my imbecilic friend, what you need is to wrap the lead round the neck twice and then yank.'
And you know what, he's right, it really does work
Full disclosure: I imagined that bit. And he doesn't look like Graeme from Dogs Behaving Badly, in fact I don't even know his real name, but for the purposes of this we'll stick with it
As you've probably gathered by now, Norman is an exceptional highly trained individual.
But not up to Graeme's standards.
'Norman's a pain in the butt, isn't he? And you work from home, don't you?' said Graeme. I nod knowing this is going to lead to some essential learning. 'Well the other week, I met a woman and she was in bits because her dog was driving her crazy eating everything in the house and she couldn't get any work done. She almost lost her job.' 
'Really Graeme, tell me more.'
'I went round to hers and I put a butter dish on the floor and stopped the dog licking it in 10 minutes flat. And she said to me 'It's a different dog, I can't believe it and I'm not going to get the sack. You've changed my life.'
I looked left and right in confusion. I don't leave butter dishes on the floor, so I wasn't 100% sure how this was going to help me work from home. And if I did leave a butter dish on the floor, is it that difficult to solve?
Obviously, I'm kidding, even a dummy like me can sort that out.
Graeme continued talking: 'I got a Tyrannosaurus Rex to heel and give a paw in 10 minutes the other day.'
I'm sure he said something like that. I have a safety mechanism where my eardrums go flaccid when I'm bored.
'And giving a paw with those little arms is tricky. So you should be able to train Norman, or are you an incompetent nincompoop? This other dog was holding up the local Nat West and within 10 minutes the dog was working behind the counter and giving Mortgage Advice.'
Blah, blah, blah. While he's talking, now might be a good time to tell you more about mine and Norman's relationship. When he was younger I bought this magazine from the supermarket just so we could communicate better.
It worked, here's one of our late-night conversations.
1.30 am – Norman: 'Woof woof.'
Translation: there's a couple of drunks outside.
3.00 am – Norman: 'Woof woof.'
Translation: someone's slammed a car door.
1.30 and 3.00 am – Me (from upstairs): 'Woof woof.'
Translation: shut up you idiot.
I've only mastered that last phrase, but I used it often.
It was quite a good purchase because there were a few more useful things in the guide.
Whenever I come home I give him the canine handshake.
This lets me know if he's in a good mood, when he last ate and whether he's healthy. All useful info and saves a fortune at the vets.
My wife, Diane: He looks a bit off today?
Me: Sniff, sniff, cholesterol a little high but he'll be fine.
After the handshake we both yawn.
According to the expert in the magazine, yawning can mean he's sick, or stressed or not stressed or looking forward to something or not looking forward to something.
He yawns quite a lot, especially when I talk to him.
Diane does too, but I haven't got the 'What your wife is trying to tell you' magazine, so not sure what that means.
Then we chew some socks from the bottom of the laundry basket together.
After we've chewed a hole in them and thrown them in the air a bit, we roll on them, hide them behind the shed and flatten our ears against our heads.
According to the expert in the magazine, ears pulled back means they are fearful or friendly or sad or not fearful or unfriendly or happy.
Next up, we go and eat some long straggly bits of grass in the garden. Apparently, dogs eat grass because there's something lacking in their diet, how do they know that? I have no idea what I'm lacking, but I eat a lot of custard creams just in case it's creaminess.
Next day, after a good session of straggly grass eating, Norman does his version of the Paul Daniel's neverending ribbon from the fist trick.
But it's not a ribbon and it's not a fist I'm pulling the straggly bits of grass out of. Where's Debbie McGee when you need her? You'll be glad to know I haven't done a more graphic sketch of this, because the answer to the question of whether you'll like it, I can definitely say – not a lot.
I take Norman for a walk at least twice a day and the magazine says I should allow him to sniff as much as he wants. Smelling is his way of sussing out the world, and if you don't let him it could lead to depression. However, waiting for Norman to stop sniffing can also lead to depression, mine.
Dogs can detect if our blood sugar levels are low. Now that we can communicate so well, I realise that whenever Norman glances in the general direction of the fridge, he's telling me to have a couple of segments of chocolate orange. Thanks, Norm you're a lifesaver.
He can also detect kidney, bladder, prostate, and skin cancer.
But I can never get an appointment.
I'll stop there because I think/hope Graeme is about to stop talking.
To speed things up, I butt in: 'Thanks Graeme, I've taken that on board, so bye ba-bye bye bye.'
I haven't told Graeme, but Norman's training regime is a bit more casual. The basic ethos is: why rush around following instructions and being good in only 10 minutes…
…when you can rush around a park being bad for 20.
I turn back: 'Oh Graeme, if you're going that way there may be a man pulling a trol…
'…it doesn't matter carry on. See you.'
That'll keep the Blank-Faced Man busy.
In fact, this has been a busy walk overall, and you know what, I could do with some refreshment, but we're in the middle of a wood, so that's unlikely. I turn the corner and Wazzokyernumpty is standing there with a Gregg's coffee and sausage roll.
End of chapter
Once again, I would really appreciate any feedback below. Good or bad? Thanks for reading.
Have a great weekend.
Take care and all the best,
Ian
Norman's Walk – Chapter 4