26 Aug 22 – Cars and Vans
I've had a few incidents with motor vehicles over the years. I haven't thrashed any with a twig yet, but there's still time.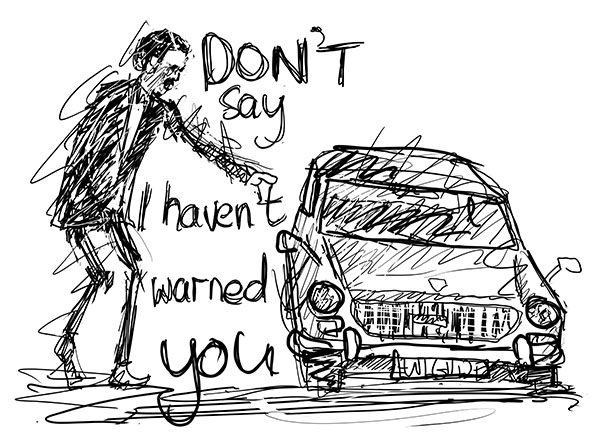 I was walking down the street and a car pulled up beside me, it was a friend's car so I threw my rucksack in the back seat and jumped in the front.
'Alright I'll let you give me a lift, if you insist.' I said and plonked my bum down in the passenger seat.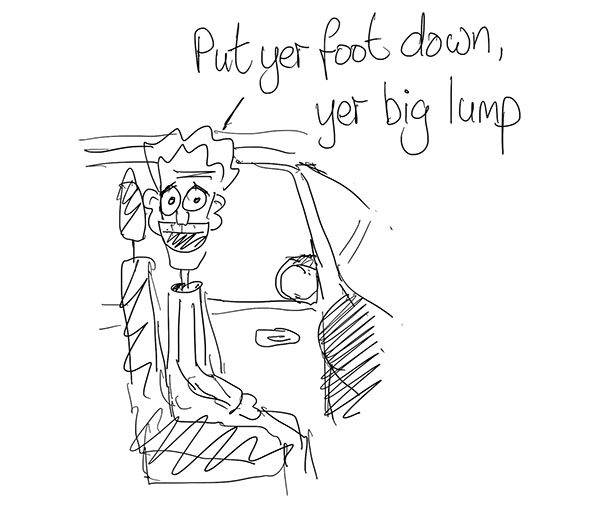 'Where do you want to go?' said a scared woman who definitely wasn't Brian. My smile spun around a couple of times and settled into an embarrassed grimace.
It turns out there are a lot of blue cars like Brian's on the road. This poor woman was turning left and had kindly stopped to let me cross.
'Sorry, sorry sorry.' I got out.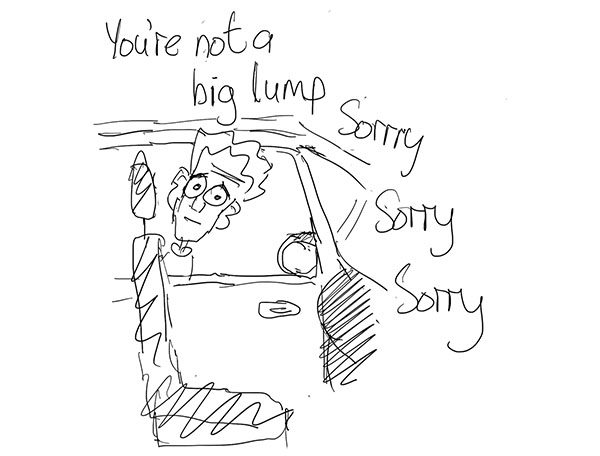 I used to work in America and drove 40 miles into the desert every day. The road was straight, the scenery was unchanging and I had cruise control on. There was a car in front. I was at 65 mph, the car in front was at 64.5 mph, the road was clear a thousand miles hence, so I pulled out. It was far too much effort to move my finger and cancel cruise control. Like a tortoise that really couldn't be bothered, I overtook.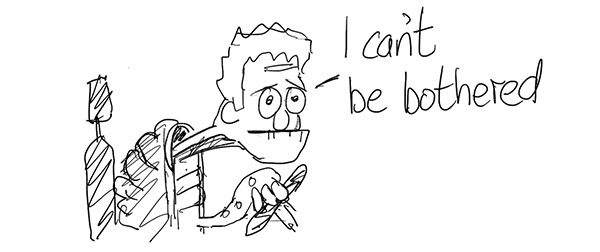 After an unbelievable amount of time, I'd cleared the car, but I'm British, and because I was out there on the left for so long, some subconscious part of me must've felt nostalgic and comfy out there, because I forgot to pull back in. I stayed out there, unwittingly loving my little island of Britishness in the vastness of the American plains.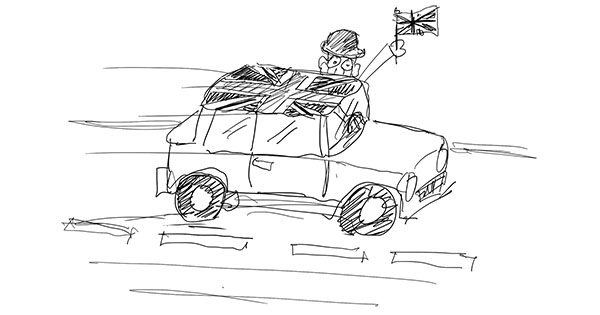 A car appeared in the distance coming towards me, but my mind was absorbed with drizzle, fish and chips and cups of tea. It was hard to tell which side was which on that long, steaming desert road. The car kept coming and I kept going. It kept coming, I kept going.
'I could murder a Cadbury's Dairy Milk right now. Is there going to be another series of Downton?'
It was at that moment the guy sitting next to me (I forgot to mention I was giving a work colleague a lift home) grabbed the wheel and yanked it right.
'Sweet cotton picken mother of a prairie dog.'
'Sorry, sorry sorry.' He never asked for a lift again.
I was looking for a new car and browsing around the outside of a showroom when I saw one I quite fancied. The door was unlocked so I jumped in and started pretend driving the steering wheel, adjusting the seats, moving the mirror, the sort of thing you do to try and make out you know what you're doing. I put the stereo on.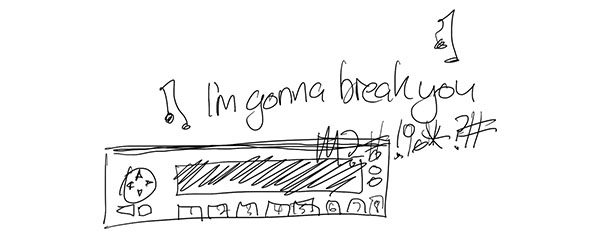 I wasn't massively keen on the super loud gangster rap so I fiddled with the channels, base, fade etc until I saw a face at the window. It wasn't the smiley salesy face I was expecting, more of an aggressive non-salesy face.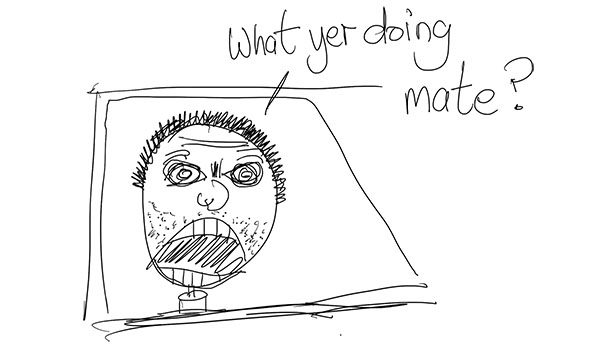 'Just having a look, thanks. Don't really like this one, the wheel trims are nasty and the skull stickers on the dashboards are a bit weird.'
'This is my car, pal, now get out.' I'd accidentally strayed into customer parking.
'Sorry, sorry, sorry.' I got out and didn't get stabbed.
When I was young we had a dog called Ben, he was a fully trained crash detection consultant, specializing in precognition and van safety. He always sat next to me in the front seat. On this day without warning, he jumped into the back of the van, and he never did that. Me mam turn right and a car smashed into the side of us. If Ben had been in the front seat he'd have gone through the windscreen.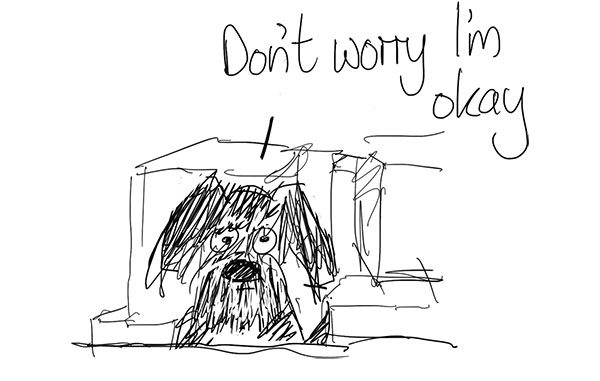 Well that's great, Ben, glad you're fine back there but where was the warning bark, where was the heads up for us? And thanks for the whiplash. Maybe we should've done more with Ben's crash detection ability, but he was just in it for himself and didn't care one jot about others.
I went on honeymoon to America 30 years ago, and to impress Diane I upgraded to an open-top sports car, the top was already down as we cruised out of the airport into the blazing sunshine.
This is what I remember Diane definitely saying: 'Wow, Ian you're amazing in this open-topped sports car.'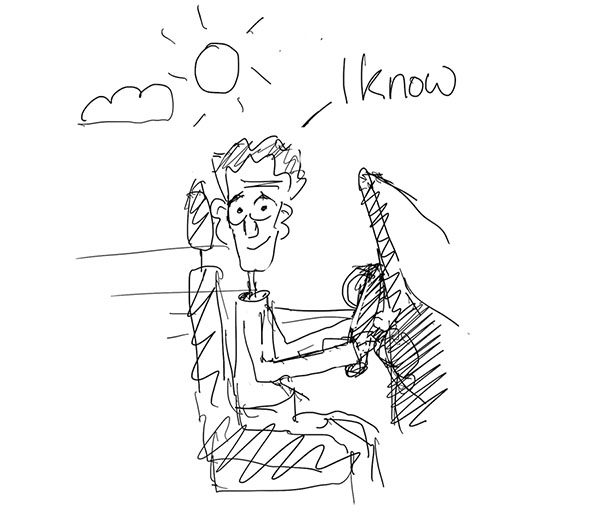 One second after hitting the freeway, massive black clouds pinged into the sky, and rain like I'd never seen before hammered from the sky. I hadn't been listening when the guy in the rental place had demonstrated how to put the top back up. I pressed every button on the dash, seats were going up and down, lights flashing but I couldn't stop on the freeway and I couldn't get the top back up.
'Wow, Ian you're an absolute….'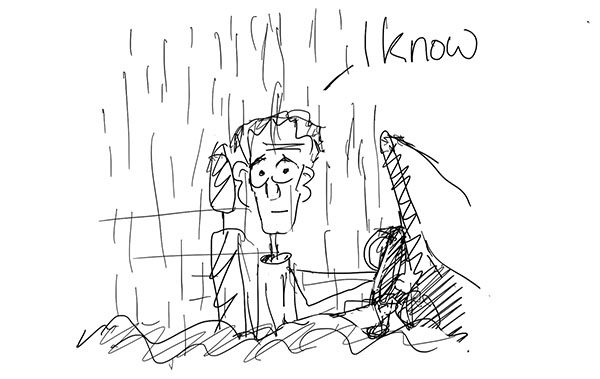 That's about it for cars and vans. A couple of times I've got into other people's cars in car parks by mistake, so if there's anything you need to take home from this, it's don't leave your car unlocked because at some point you'll come back to it and I'll be fiddling with your graphic equalizer.
Have a great weekend.
Take care and all the best,
Ian
(If you want to leave a comment below, that would be great)
'
26 Aug 22 – Cars and Vans